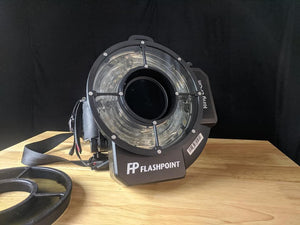 About

This sturdy polarizer is designed to be used with the Godox AR400 series of ring flashes.



Built to be attached directly to the front of the flash without any modifications to the flash, this will allow you to quickly adapt your flash into the polarized light source you have always dreamed of.

Using the handle you can easily rotate this unit in 45 degree increments, allowing for rapid cross to parallel polarization.

Fits the following ring flashes

Godox AR400
Flashpoint RF400
Quadralite RX400
RIKO400

Used by many industries

From onset VFX scanning to art digitization, these polarizers are used worldwide to capture reliable data in almost any situation.





Now with Material Versions

Do you work in hot climates?
We offer these filters in two types, ABS and PLA


ABS is the best option if you work in hot climates.

PLA is more reliable and cost effective to produce, and as such is cheaper.
Check out some of these videos which show the versatility of this system


All prices are in NZD